Valentine's Day just came and went, but that doesn't mean you don't have to try hard to keep your love life exciting. Surprise your loved ones with a gift or a planned surprise once in a while can really help with your relationship. Sure, flowers, chocolate and jewelry are all nice, but they are also trite. Everyone has either given or received that list of gifts in their lifetime, it's time to start thinking of a little more original ideas.
And while original is great, it would be even better if you could give a gift that would last all year. So what is that gift? It's the gift of spice – spicing things up that is.
Location and activity surprises:
Why are most restaurants fully booked and their menu more expensive on Valentines Day! I would dine at restaurants with my partner even on a normal day, so going to a restaurant is really not very romantic. I think setting up a surprise dinner with your loved ones in a creative way is definitely more romantic. Perhaps prepare a picnic with roses laid on the picnic mat and wine? Or how about re-visit a nostalgic location such as the first place where you guys met or location of your first kiss etc. ? Showing that the other person is worth the effort for you to do more than just paying the bill, can really mean a lot!
Lingerie:
Lingerie is kind of an obvious choice, but whether you're buying it to wear for your partner or you're buying for your partner to wear, it's a win win. Everyone loves lingerie. While getting a holiday-themed piece might be fun, consider getting something just in red or black. That way it will still be holiday appropriate, but will also work all year round. If buying for your partner, make sure you know their size. You don't want to give a thoughtful gift that turns into an argument.
Costumes:
Many girls loveeeee to dress up! I'm awaiting my Japanese uniform cosplay from my friend who is working in Japan
I'm not sure how far is too far, but it can be anything as mild as uniform costumes, to slutty dresses or some might even prefer leather and chains.
Sex toys:
Sex toys can really spice up your love life and sex life
I'm actually quite surprised at the number of sex toys that are available for men nowadays… In the past when people talked about sex toys, I would naturally think that they mean vibrators or dildos for girls…. But the range available for men now are huge
To be honest, I've not bought a sex toy for a guy before because I'm not sure how it works or what is good, but I've heard feedback from my other male friends that have tried masturbator for men (fake vagina) like the ones sold at http://www.adameve.com, apparently they are really good and feel like the real thing! ;X
Handmade gifts:
Well, I'm actually still in the midst of making a handmade gift for a friend! These projects are really quite tiring and not easy to pull off. But if you're naturally good at handicraft, I think a handmade bouquet of wild flowers, or a decorative ornament with both your pictures, or even design your own mugs and t-shirts, are refreshing and unique!
Poetry:
I'm embarrassed to say that I actually enjoy writing poetries, although I've not really posted them up in my blog. Using words to express how you feel about someone may seem trivial to some, but if you're good with words, perhaps impressing them with your writing skills might be the way to go. Plus it's free!
Do post comments for more ideas to spice up your love life!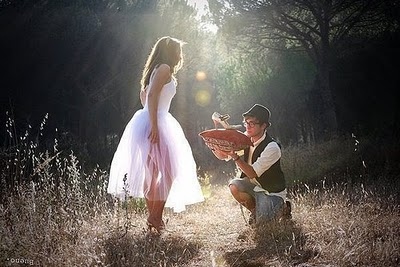 Shoes are great, only if you know your Cinderella's size!!!